Just a quick post today to share some retro Halloween goodness!
If you haven't been reading Shawn Robare's plethora of 'Monster Squad' articles this month, you are missing out! It's been a month-long study of a great movie and what better way to get pumped up for Halloween? It's also gotten me thinking about the classic monsters and some old Halloween stuff of mine I've run across recently.
Universal Monsters mug (1990)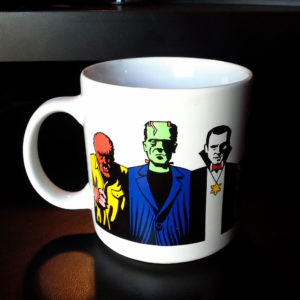 I grew up on Universal Monsters and loved the boom they had in the 90's. The artwork on this mug is fantastic. I've taken the liberty of Photoshopping together a large version of this artwork for download. It's a transparent PNG and can be repeated. Enjoy!
Fun Fruits Halloween Box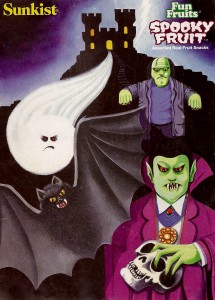 I don't know why I had the good sense to cut this off the box when I was a kid but man, I'm glad I did! This artwork was on the back of the Fun Fruits box, part of the Fun Fruits 'Spooky Fruit' line in 1988. I removed the blurb (about the shapes & flavors) in the image above but, you can see the original version here.