My oldest son's first day of school was yesterday so, I decided to take the day off so I could bring him. After we dropped him off, I happened to end up at the mall again. Well, the sports card store I mentioned in my last post, was calling my name again. Their selection of retro toys & cards really caught me off guard last time and I really didn't get a chance to dig around. So I went in and found a few great items; none of which I was expecting. Here's what I found:
'The Simpsons' standee – 1990 – by Starmakers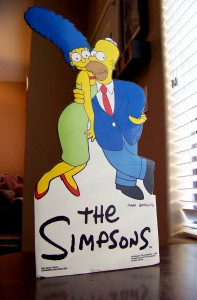 I spied this beauty when I first walked in. It's in great shape for being 24 years old. I'm a big Simpsons fan and it's amazing to think that the show was barely a year old when this was released. It's about 1½ – 2 ft tall.
Bruce & Selina 'Batman Returns' cup from McDonald's – 1992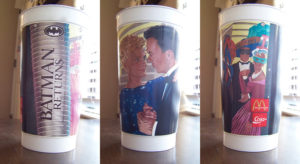 I actually have most, if not all, of the other cups that McDonald's released for Batman Returns. As well as the 'Batdisc' lids (with un-punched straw holes). I love the artwork on these cups. McDonald's really had some great movie promo stuff back in the 90's. I'd never seen this one before so, I had to grab it.
'Batman: The Animated Series' cards – 1995 – by Skybox
Despite my duplicate card debacle from last week, I picked up a couple packs of these cards. However, this time I checked my binders first and found that I only had about 60% of the cards in this set. And I think we can all agree that 'special cards' in trading card sets don't get much better than these mini-standee cards.
G.I. JOE – Order of Battle TPB – 1987 – by Marvel Comics
Now this is an item I had never seen before. So, I quickly whipped out my phone and Googled it. Essentially, this is a collection of the character & vehicle casefile cards (as seen on the 1980's G.I. JOE toy packages) from the fist series. It was released, in comic format, in a 4-issue series. This is the collected, trade paperback version. Really awesome stuff. It is in fantastic / near mint shape and to my shock, was priced at a dollar less than the cover price ($6).
'The Punisher' Movie Special – 1990 – by Marvel Comics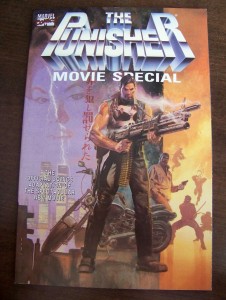 Another item I had never seen before. As you may have guessed, it's a comic adaptation (in TPB format) of the 1989 Punisher movie. The movie is not very good but, worth a watch if you've got some time to kill (ha ha). Being that I'd never seen this before and it was marked at the cover price, I had to grab it.
Not at all what I was expecting to find or buy but, man was it fun to find these items!