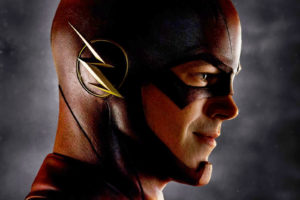 Sweet … more new shows!
I finally watched the pilot episode of the new 'Flash' TV show last night and I've gotta say, I liked what I saw. I honestly couldn't pick out one thing that I disliked and despite my undying love of all things Batman, I actually think it had a stronger start than 'Gotham'. Here are my thoughts on the pilot:
The show, overall (acting and dialogue) felt really tight. Like I mentioned, a better start than 'Gotham'. None of the dialogue felt forced and the acting seemed genuine.
Speaking of the acting, I like the look of all the actors and everyone seemed very in-character. I've never seen Grant Gustin in a single thing and he did a fantastic job as Barry Allen.
I would be totally lying if I told you that seeing cast members from the old Flash show (John Wesley Shipp and soon Amanda Pays) didn't leave a HUGE grin on my face. I love the old show so, I totally welcome this.
Also, I was grinning like an idiot when I saw the mangled Gorilla Grodd cage. So awesome! Can't wait to see him.
In stark contrast to 'Gotham' (so far, at least) it was really nice to see superheroes (and soon, supervillains), in costume.
I thought the Flash speed effects were really great. I like how they're handling the mix of effects and camera angles.
Poor Mikey Palmice can't catch a break and gets whacked in the first episode. I kinda laughed when I saw him in the show but, don't really care that he's gone.
Anyways … very strong start! I will be keeping up with this show.